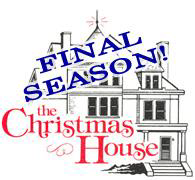 It's the final season at The Christmas House………
We are sad to see such a wonderful landmark close but happy for Julie and Mark Delgrosso on their retirement.
The Christmas House is offering 20% off "most" gifts!
In addition to the 20% off each guest receives a cashmere-feel scarf with purchase!
The bonus is that The Christmas House is giving a percentage back to Holy Family!
How does it work?
Shop anytime from November 15th – 18th and mention Holy Family when you check-out.
November 18th from 3pm – 7pm will be the shopping party.
There will be giveaways, refreshments & a dress down pass for your student!!!!
The Christmas House
361 Maple Ave
Elmira NY 14901
Can't shop in person……
The Elves would be happy to assist you by phone 607-734-9547
• Exclusions: Villages, "Local" and Community / Charity items and Sale Items. See Elves for details.