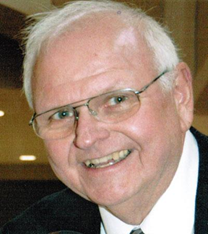 LENTEN RETREAT with JOSEPH KELLY
ST. MARY'S CHURCH
March 7, 8, AND 9
7:00 TO 8:30PM
(IN PERSON and LIVESTREAM)
Getting to Know You: Biblical insights for Developing a Deeper Relationship with God.
As we Catholics continue to practice our Christian faith, many of us long to find ways that will allow us to develop an even deeper and more intimate relationship with our Triune God. This 3-evening Lenten Retreat will explore many of the biblical insights from both the Hebrew and Christian scriptures that might be of assistance to us in this search. We will give special emphasis to the ideas of "knowing" God and the value of silence in this journey. We will also consider the example of some of the men and women who have found success in this undertaking.
To attend in person, you must pre-register by way of this website or by calling the Parish Office at 733-3484. Seats will be limited. You must wear a mask and social distance. Instructions for registration and livestream information will be given closer to the date.
Dr. Joseph Kelly retired from full-time teaching after 37 years. For 11 years, he was Professor of Hebrew Scriptures at St. Bernard's Seminary on Lake Avenue in Rochester. He then served for 26 years as Professor of Religious Studies at Nazareth College. Now he devotes his time to teaching Adult Education courses in Scripture and Religious Studies in various parishes and congregations in Rochester and the Upstate area. His article entitled "Heal the Wounds: Pope Francis' Idea of the Church as a Field Hospital" was published in the March 17, 2014 issue of America Magazine. His new book, Behold How Good It is: Jews and Catholics in Rochester, was published in early September 2015, in time for the 50th anniversary of Nostra Aetate. Joe and his wife Pat, who died in October 2017 were married for nearly 46 years.